.
.
The mandatory APPLICATION FORM is available ONLINE on the conference website:
>>> SORRY, application period EXPIRED!
>>> DEADLINE for "last minute" PARTICIPANT APPLICATION was >>> 17th of March 2017
.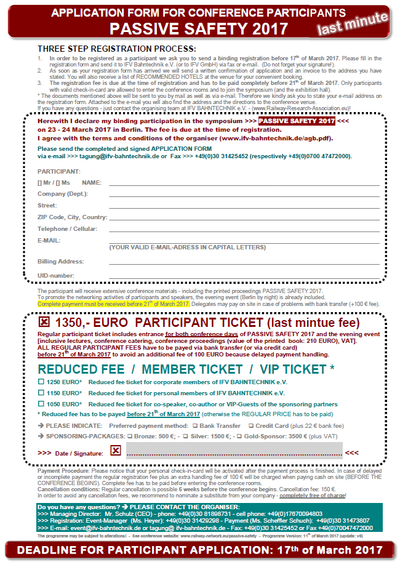 .
PARTICIPANT TICKET (REGULAR FEE) >>> 1350,- EURO  
Regular participant ticket includes entrance for both conference days of PASSIVE SAFETY 2017 and the evening event
[inclusive lectures, conference catering, conference proceedings (value of the printed  book 210 EURO), VAT].
ALL REGULAR PARTICIPANT FEES have to be payed via bank transfer (or via credit card) before 17th of March 2017 to avoid an additional fee of 100 EURO because delayed payment handling.
.
.
We offer special price tickets for
EARLY BIRD TICKTES / EARLY PAYMENT
MEMBERS of IFV BAHNTECHNIK e.V. – Intedisciplinary Railway Research Association
GROUPS OF THREE PARTICIPANTS (with same application date and billing address)
VIP-GUEST TICKET for the guests of the SPONSORING PARTNER / EXHIBITIONS PARTNER
.
.
MEMBER TICKET (REDUCED FEE*)
EARLY BIRD / EARLY PAYMENT PRICES ARE AVAILABLE FOR MEMBERS OF IFV BAHNTECHNIK ONLY
MEMBER price for PERSONAL members of IFV BAHNTECHNIK e.V. or co-speaker >>> 1050 EURO*
MEMBER price for CORPORATE members of IFV BAHNTECHNIK e.V. or VIP-tickets >>> 975 EURO *
GROUP price for three or more participants of one company (same billing address) >>> 950 EURO *
* Reduced fee has to be payed before 23th of February 2017 (otherwise the REGULAR PRICE has to be paid)
.
---
#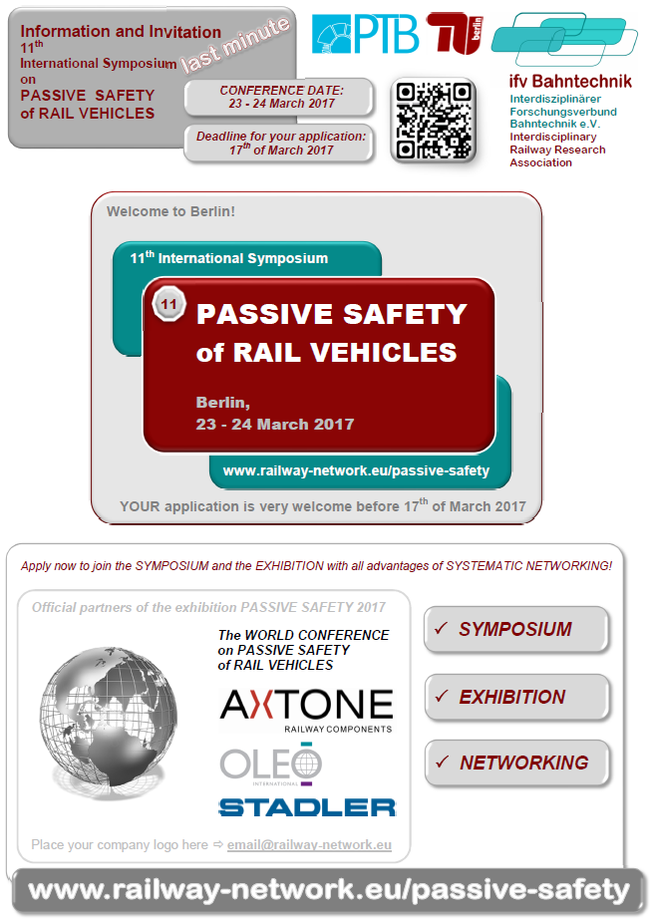 Download: PASSIVE SAFETY 2017  >>> brochure.pdf <<< 
.
#